July 22, 2015. English. Cleveland, Ubinas, Sinabung .
July 22, 2015.
Cleveland, Alaska :

52 ° 49'20 « N 169 ° 56'42 » W,

Summit Elevation 5676 ft (1730 m)
Current Volcano Alert Level: WATCH
Current Aviation Color Code: ORANGE
AVO detected an explosion at Cleveland volcano at 08:17 AKDT (16:17 UTC) today. In response, AVO raised the Alert level and Color Code to WATCH/ORANGE this morning. Satellite views below about 30,000 feet above sea level have been obscured by clouds.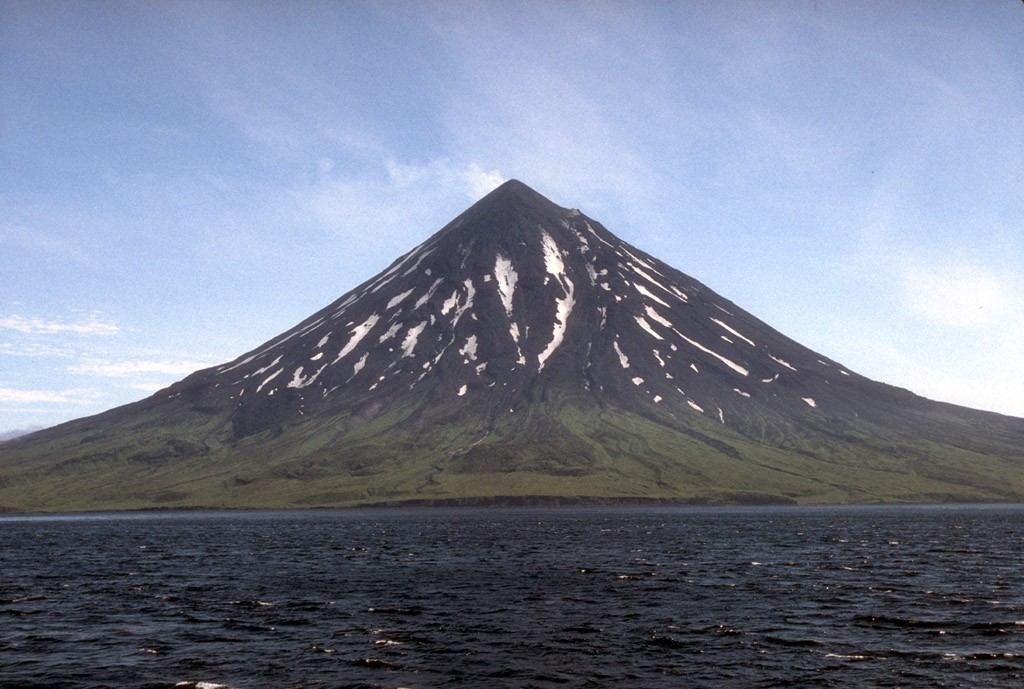 Mount
Cleveland
forms the western
half of
Chuginadak
Island
in the central
Aleutian Islands
.
This
symmetrical
stratovolcano
1730
–
m (
5676
ft)
high was
the site of many
eruptions in
the last two centuries
;
The most recent
eruption was
in 1994.
In 1944
, a soldier
of the US Army
was killed
by an eruption
of Mount
Cleveland.
No ash cloud has been observed by satellite, web camera or other observers at this time. Observers from a boat on the northeast side of the volcano reported seeing a dusting of ash on the snow near the summit of the volcano as well as moderate steaming from the summit area. AVO will continue to monitor the volcano closely.

Source : AVO .
Photo : Wikipedia (M. L. Harbin of the University of Alaska Fairbanks)
Ubinas, Pérou :
LP type Earthquakes, associated with fluid movements, showed a daily average of similar events (154 LP / day) than that observed in the previous period. This behavior continued until July 18. Between 19 and 20 July, peaks at 840 and 360 LP were recorded respectively. A maximum value of 23.2 MJ of energy was calculated at this time. This indicates that LP earthquake activity has increased .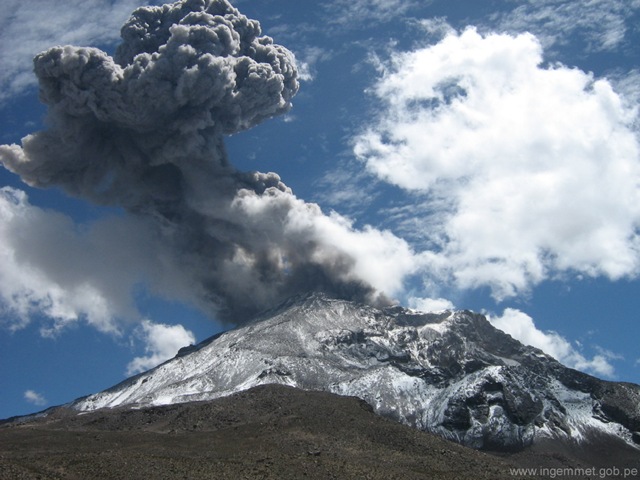 Seismicity hybrid type (HIB), associated with magma ascent, has shown at the analysis, during the week preceding 2 HIB / day, with a total of 15 recorded events. During this new period, the rate of occurrence has increased to 16 HIB / day and maximum energy value of 7 megajoules. Only between 19 and 20 July were recorded 600 tremors hybrid earthquake (higher values). This suggests that the  magmatic body increased and must be very near the surface of the crater.
The events associated with rock fractures (VT) have increased precisely between 19 and 20 July at a rate of 59 VT / day (previous week 7 VT / day). Energy stocks also rose, but slightly compared to the previous period. Therefore, the internal pressure in the volcano has increased in the last two days, perhaps for two reasons: magma ascent material and duct obstruction (path of magma).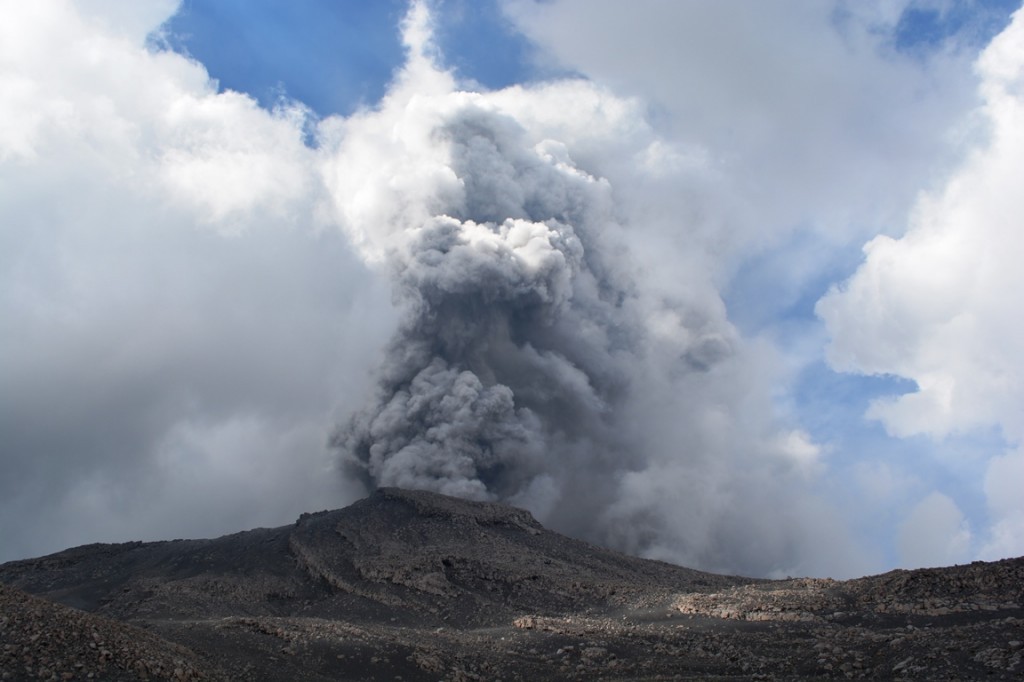 The seismic tremor is most often associated with ash emissions observed on the volcano, and this week, he again declined significantly. It is possible that this will change in the coming days.
Events related to ash emissions during this period were explosions / exhalations, observed until July 17 with moderate energy values. Since July 18, there were no reports of emissions from the Ubiñas volcano, this would indicate the presence of a possible blockage in the tube that generates increased pressure inside the volcanic edifice.
Mirova the system has detected a thermal anomaly of 1.3 MW (presence of a hot spot on the surface).
It has visually recorded in recent days increased magmatic gases (mainly SO2), seen by the population as bluish gas on Ubiñas.

Source : IGP
Photo : Ingemmet, OVS/IGP.
Sinabung, Indonésie :
The volcano is still fully active: it currently issues one to five pyroclastic flows and tens / hundreds of dome avalanches (rock falls) per day. The pyroclastic flows are oriented in two directions (south and southeast). They travel from 2 to 3.5 km 3 to 4 minutes, or a speed of several tens of km / h; they grow vertically several hundred meters up to 1000 meters according to the Volcano Observatory.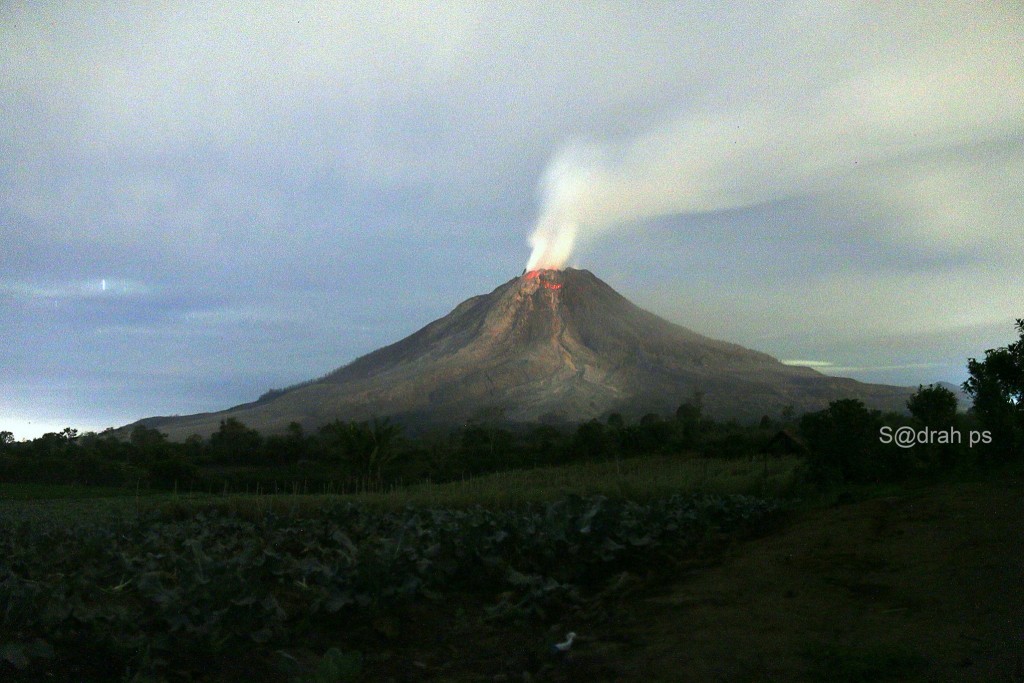 The Alert Level remained at 4 (on a scale of 1-4), indicating that people within 7 km of the volcano on the SE sector, and within 6 km in the E sector, should evacuate or remain in alternative housing.
Source : http://blogs.futura-sciences.com/bardintzeff/2015/07/20/le-sinabung-tres-actif/#more-748
Photo : Sadrah Peranginangin