July 21, 2015. English. Colima, Popocatepetl, Kilauea .
July 21, 2015.
Colima, Mexique :
After staying in shelters for more than a week, Saturday, the 170 residents of areas near the Colima volcano returned home. The director of the State Civil Protection Unit of Jalisco, Trinidad Lopez Rivas, warns that it should continue to monitor the volcano to prevent a crisis that might surprise them.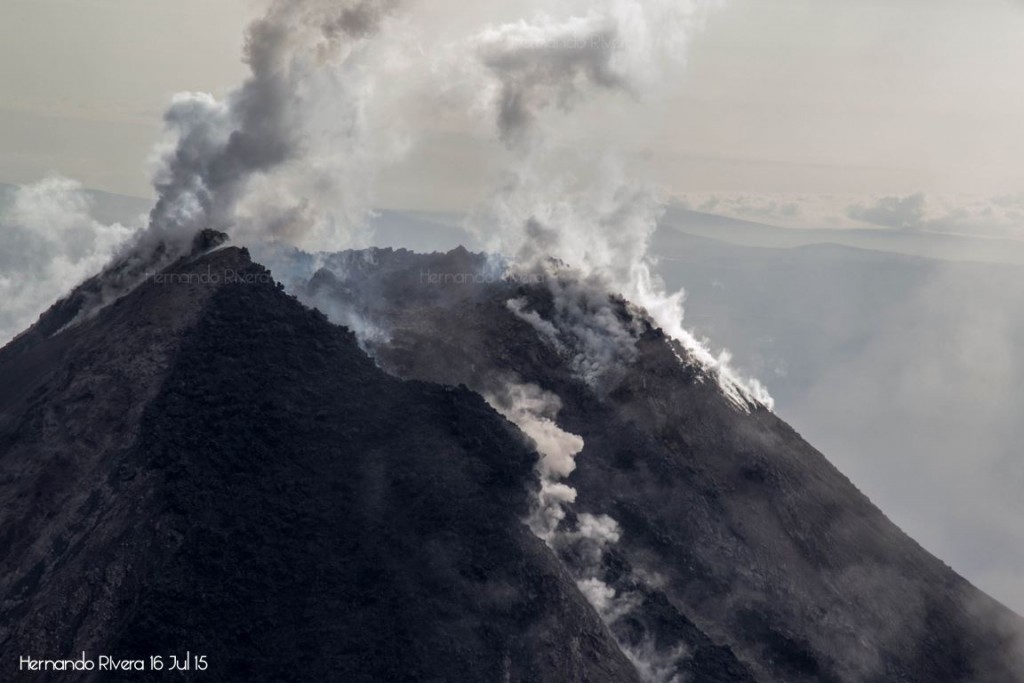 « Of course, the volcano will continue to evolve and we continue to follow it through the Scientific Committee and the people of our organization we have there at the Observatory. Obviously, though more sporadically, yesterday there had four times lava emissions. « People who were evacuated were from communities Borbollón Los Machos, Cofradía, Juan Barragan, Floresta and El Agostadero.
Source : José Luis Escamilla / Notisistema.com

Photo : Hernando Rivera
Popocatepetl, Mexique :
July 20, 11:00 h (July 20, 16:00 GMT)
In the last 24 hours the seismic records of the surveillance system of Popocatepetl volcano registered 25 very-low-intensity exhalations. Also there were recorded two minor explosions; the former at 07:21 h (local time) of today , whilst the latter took place at 07:31 h (local time) also today. These events were along with an ash column less than 500 meter high. Ashes of the events were carried southwesterly by prevaling winds.
On the other hand, two volcanotectonic events were recorded; the first one took place yesterady at 16:52 h (local time) with a magnitude of 2.1, whereas the latter of 1.6 magnitude, happened at 01:210 h of today.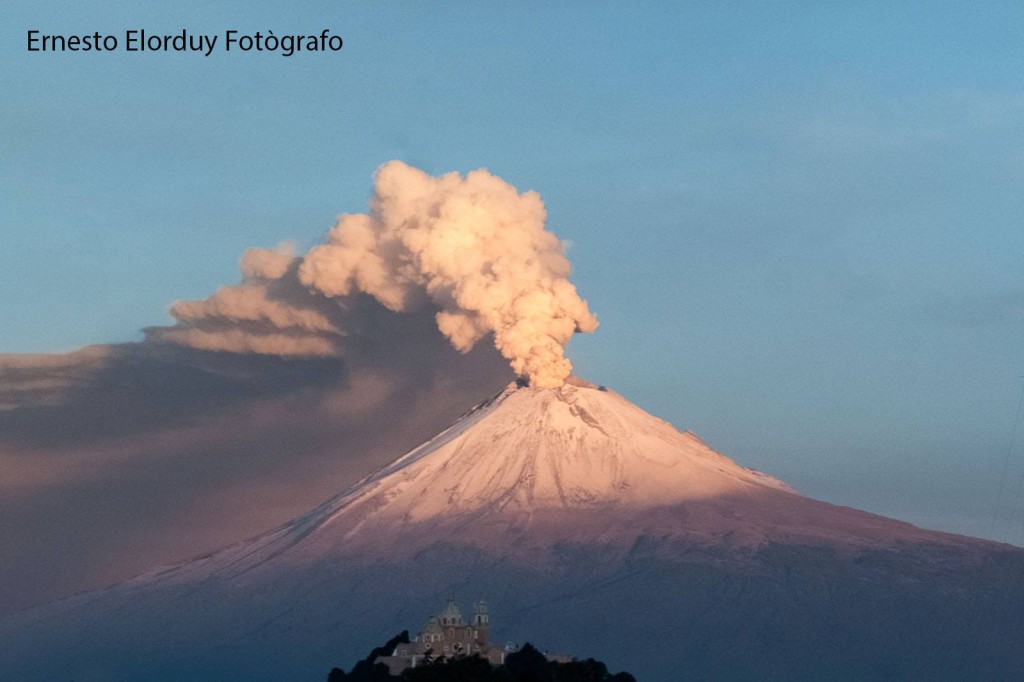 Along some lapses of the night incandescence was observed over the crater increasing when major exhalations .
From dawn and up to the time of this report it has been noticed a faint but not stopping emission of steam and blueish gas that winds blow about southwest .
CENAPRED emphasizes that people SHOULD NOT go near the volcano.
Source : Cenapred .
Photo : Ernesto Elorduy
Kilauea, Hawa

i

:

19 ° 25'16 « N 155 ° 17'13 » W,
Summit Elevation 4091 ft (1247 m)
Current Volcano Alert Level: WATCH
Current Aviation Color Code: ORANGE
Activity Summary:
There was weak deflation at Kīlauea's summit, and the lava lake behaved in typical fashion with little overall change in level. The East Rift Zone lava flow remains active northeast of Puʻu ʻŌʻō, but has not advanced significantly and poses no threat to nearby communities. Low levels of seismic activity continue across the volcano.
A view of the southern portion of Puʻu ʻŌʻō crater, where two small incandescent vents have been active recently.
Summit Observations:
Kilauea's summit deflated a small (and perhaps insignificant) amount over the past day. The lava lake experienced the usual small fluctuations but there was no overall change in level. Seismicity continues at a low background level, with several small earthquakes clustered south of the summit caldera, and a handful of other events scattered along the rift zones and across the volcano's south flank. Summit sulfur dioxide emission rates ranged from 2,300 to 4,600 metric tons/day for the week ending July 14.
Puʻu ʻŌʻō Observations:
There was no obvious change in activity at Puʻu ʻŌʻō, which hosts several incandescent, outgassing crater vents. Low levels of background seismicity continue. The sulfur dioxide emission rate from all East Rift Zone vents was about 700 tonnes/day when measurements were last possible on June 19, 2015.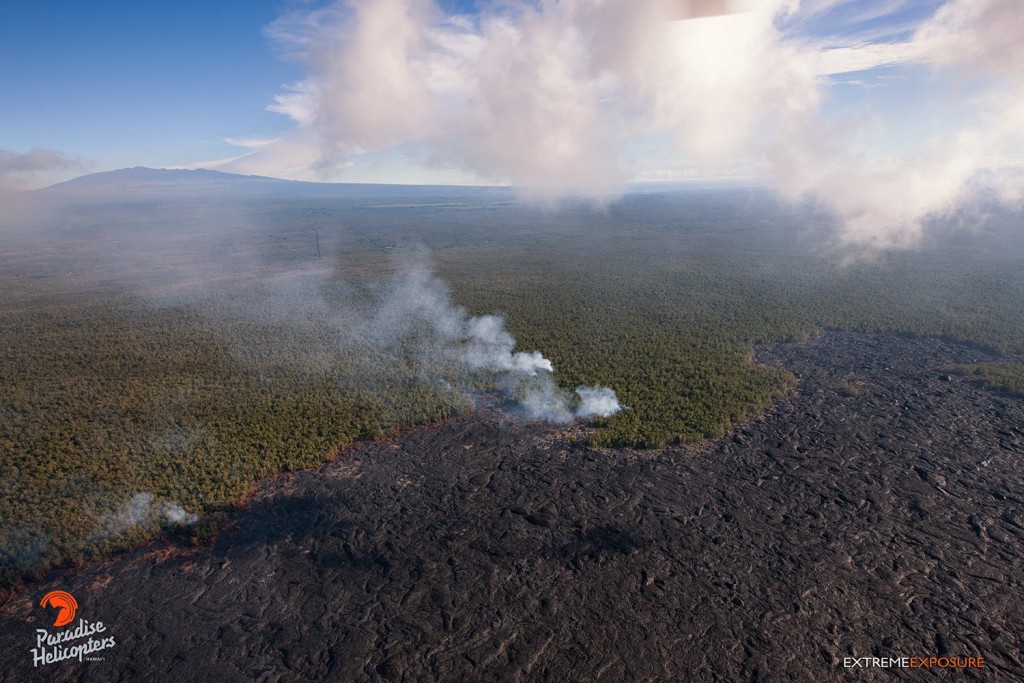 Activity along the northern tree line pushes a little deeper into the forest. Homes and streets of the Eden Rock subdivision are visible in the upper left.

'June 27th Lava Flow' Observations:
Webcam views show breakouts scattered across a broad area extending from about 1 to 8 km (0.6–5 mi) northeast of Puʻu ʻŌʻō. The most distant breakouts are evident by the smoke plumes produced where they are creeping into the forest along the edge of the flow field.
Source : HVO

Photo : HVO, Bruce Omori.