July 18, 2015. English . Bulusan , Sabancaya, Kilauea , Colima .
July 18, 2015.
Bulusan , Philippines :
This is notice of a minor ash eruption at Bulusan Volcano (12°46.2'N, 124°03'E) at 1:10 P.M. local time. The eruption was recorded as an explosion-type earthquake that lasted 11 minutes on the seismic record. A short 200m-high gray ash plume that drifted west-northwest was observed until the eruption ended at 1:21 P.M.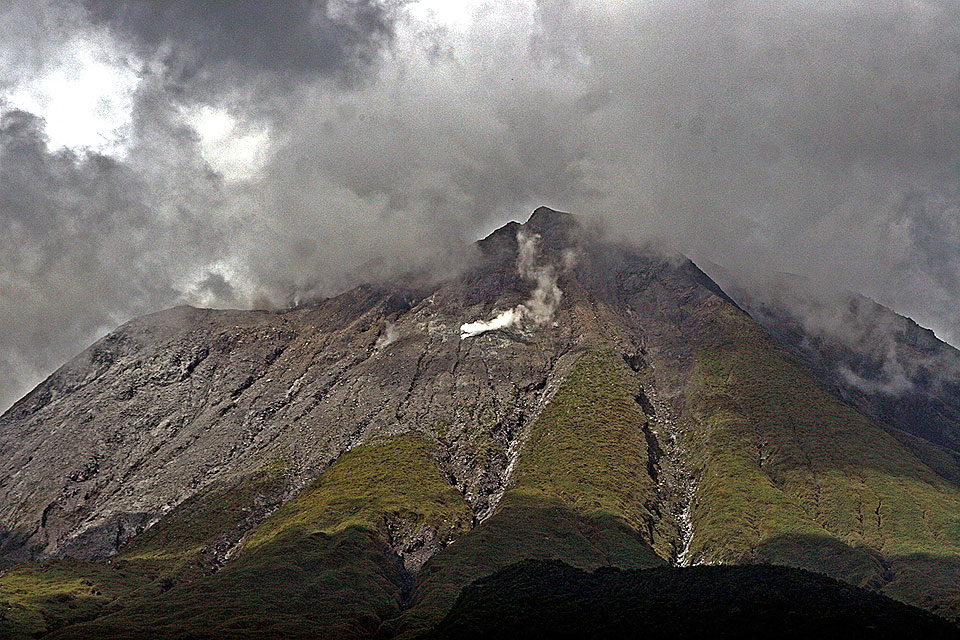 Alert Level 1 (abnormal) remains in effect over Bulusan Volcano. This indicates that hydrothermal processes are underway beneath the volcano that may lead to more steam-driven eruptions. The local government units and the public are reminded that entry to the 4-kilometer radius Permanent Danger Zone (PDZ) is strictly prohibited due to the possibility of sudden and hazardous steam-driven or phreatic eruptions. Civil aviation authorities must also advise pilots to avoid flying close to the volcano's summit as ash from any sudden phreatic eruption can be hazardous to aircraft.
Source : Phivolcs.
Photo : GMA News
Sabancaya, Perou :
The experts from the Volcanological Observatory of INGEMMET during their ascent to the summit of Sabancaya made during the period of 09 and 10 July, recognized the ash emitted by the volcano in recent weeks.
This ash is gray and the grains are smaller than 0.5 mm. Crystals of plagioclase, biotite and amphibole (magmatic silicates) are observed. Plagioclase crystals are less than 0.5 mm ,some have tabular forms. The biotite are up to 0.2 mm and are slightly modified. Amphibole are encompassed by the fresh and youthful lithic. Similarly, glass measuring up to 0.1 mm is observed, this one is translucent and amorphous.
Furthermore, the samples show two different types of lithic: fresh or dark gray juvenile, measuring up to 0.3 mm and oxidized reddish up to 0.2 mm. Especially juveniles predominate in the fragments of ash suggesting that Sabancaya has entered into a eruptive phase of magmatic origin, which may increase in the weeks or months.
Source : Ingemmet.
Photo : Ingemmet, Summitpost.
 Kilauea , Hawai :

19 ° 25'16 « N 155 ° 17'13 » W,
Summit Elevation 4091 ft (1247 m)
Current Volcano Alert Level: WATCH
Current Aviation Color Code: ORANGE
Activity Summary:
There was little change at Kilauea's summit over the past day. Inflation switched to deflation, and the lava lake fell several meters. The East Rift Zone lava flow remains active northeast of Pu'u 'O'o , but has not advanced significantly and poses no threat to nearby communities. Low levels of seismic activity continue across the volcano.
The crater of Pu'u 'O'o continues to emit lava and evacuate the gases. The collapse fossa in the middle  image still contains a lava pond, but impossible to see because of gas ..

Summit Observations:
Kilauea's summit switched from inflation to deflation mid-morning yesterday, and unsteady deflation has continued since. The lava lake dropped several meters with the deflation, leaving behind a well-developed veneer plastered to the vent wall. The lake surface was 51 m (167 ft) below the vent rim when measured this morning (July 17). Seismicity continues at a low background level, with a smattering of discrete events scattered around the summit and rift zones, and across the volcano's south flank. Summit sulfur dioxide emission rates ranged from 2,300 to 4,600 metric tons/day for the week ending July 14.
Pu'u 'O'o Observations:
There was no obvious change in activity at Pu'u 'O'o, which hosts several incandescent, outgassing crater vents. Low levels of background seismicity continue. The sulfur dioxide emission rate from all East Rift Zone vents was about 700 tonnes/day when measurements were last possible on June 19, 2015.
Nice view of the crater of Pu'u 'O'o, with Mauna Loa and Mauna Kea in the background. The plume of Halema'uma'u can be seen in front of Mauna Loa on the upper left of the frame.

'June 27th Lava Flow' Observations:
Webcam views, though hampered by poor weather, show breakouts scattered across a broad area extending from about 1 to 8 km (0.6–5 mi) northeast of Pu'u 'O'o. The most distant breakouts are evident by the smoke plumes produced where they are creeping into the forest along the edge of the flow field.
Source : HVO
Photo : Bruce Omori.
Colima, Mexique :
Activity remains exclusively effusive, and overall seems to be decreasing. The lava flow on the southern flank continues to advance slowly, approx. 200 meters per day. Rockfalls from other areas of the crater have been more rare than during the previous day.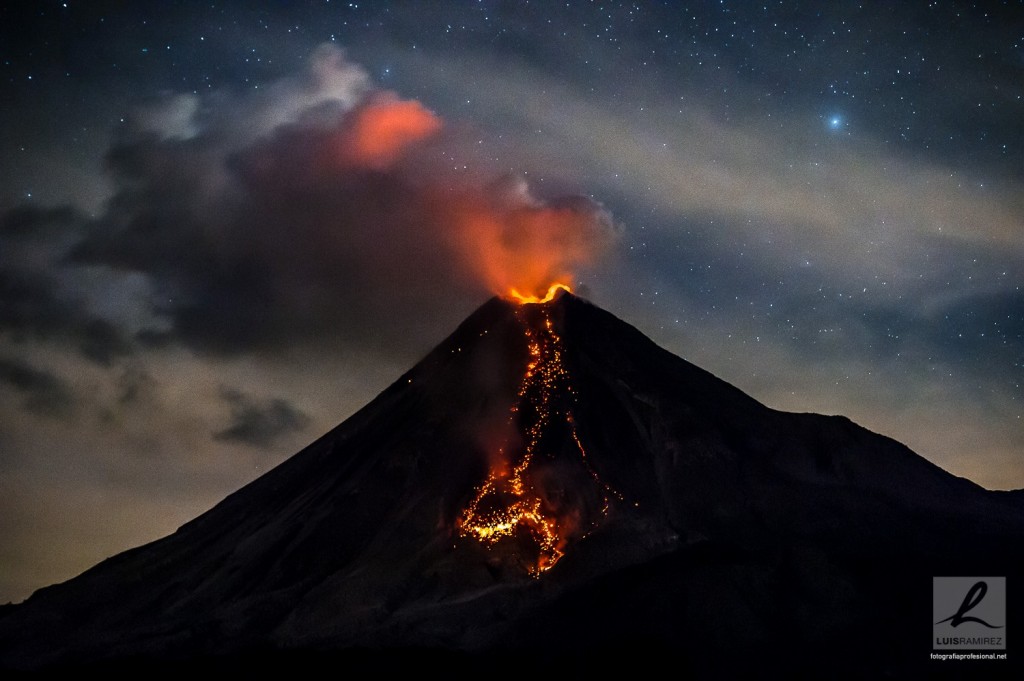 During an overflight this morning, we could see that last week's lava dome no longer exists and that the southern rim of the crater is breached, through where the lava flow emerging from a vent in the crater exits onto the steep flank. Vigorous degassing creates a steam plume rising up to approx. 1 km from the crater.
Source : Jeannie Curtiss
Photo : Luis Ramirez