02/07/2015. English . Yellowstone, Misti, Raung .
02/07/2015.
Yellowstone, Etats-Unis :
44°25'48 » N 110°40'12 » W,
Summit Elevation 9203 ft (2805 m)
Current Volcano Alert Level: NORMAL
Current Aviation Color Code: GREEN

Seismicity
During June 2015, the University of Utah Seismograph Stations, responsible for the operation and analysis of the Yellowstone Seismic Network, reports 82 earthquakes were located in the Yellowstone National Park (YNP) region. The largest event was a small earthquake of magnitude 2.6 on June 21, at 04:40 PM MDT, located about 13 miles north northeast of Old Faithful, WY.
June seismicity included an earthquake swarm occurring on June 13 – 14th, about 6 miles southwest from West Thumb, WY, accounting for 16 earthquakes (ranging in magnitude from -0.1 to 2.4). The largest swarm event was a small earthquake of magnitude 2.4 on June 14, at 01:06 AM MDT.
Yellowstone earthquake activity in June remains at low background levels.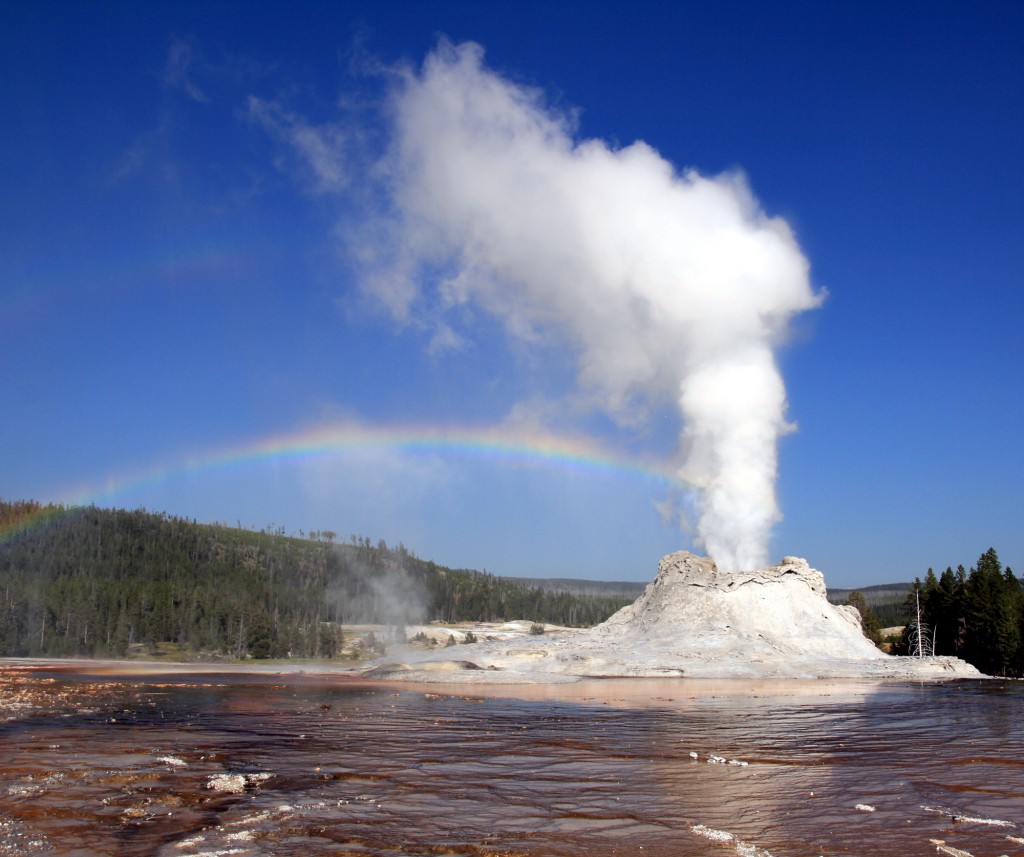 Éruption en phase vapeur  du Castle geyser avec double arc-en- ciel.
Ground deformation
GPS stations in Yellowstone continue to show little or no ground deformation. See for example:
http://www.unavco.org/instrumentation/networks/status/pbo/data/HVWY  (click on Static Plots / Time Series)
The Yellowstone Volcano Observatory (YVO) provides long-term monitoring of volcanic and earthquake activity in the Yellowstone National Park region. Yellowstone is the site of the largest and most diverse collection of natural thermal features in the world and the first National Park. YVO is one of the five USGS Volcano Observatories that monitor volcanoes within the United States for science and public safety.
Source : YVO
Photos : rcn.montana.edu.
Misti , Perou :
The global volcanic activity remains low.
Between 17 and 30 June 2015, earthquakes VT, or fracture, decreased slightly compared to the previous period.  35 VT / day were recorded.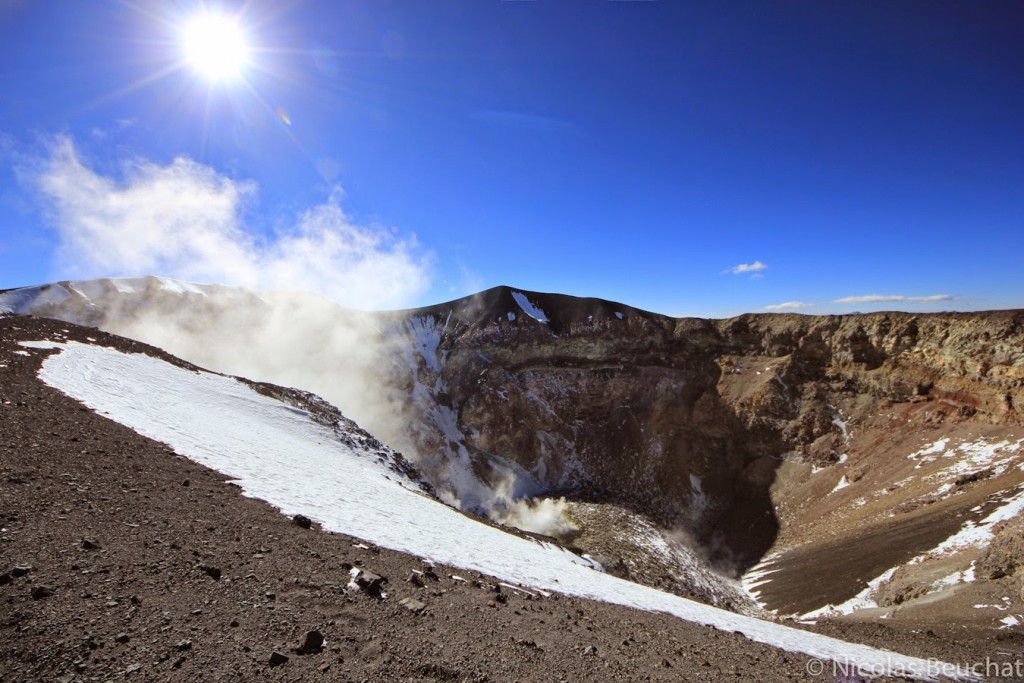 Seismicity recorded during this period showed two seismic groups, one located 1.8 km north of the crater and the second group located under the crater, between 1 and 2 km deep. The maximum magnitude seismicity generated by this has reached M 2.6 .  Earthquakes LP type , associated with the passage of fluids (gas and steam) under the Misti volcano remain low with a rate of occurrence of event at 9 LP / day. The tremor activity remains low and shows low energy levels. In this period, the curve of energy showed a slight decrease, there has been some peaks of increased activity. In general, the values remain low. It was not detected thermal anomalies, and high density values for SO2 of the Misti volcano.

Source : IGP Perou .
Photo :  el-gato-lindo.blogspot.fr
Raung, Indonesie :
  Local authorities have called on residents living nearby Mount Raung in East Java to stay alert despite a decline in the volcano's activity shortly after its alert status was upgraded. On Monday, the Volcanology and Geological Hazard Mitigation Center (PVMBG) raised Mt. Raung's alert status from Level 2 to Level 3 after it discharged molten lava and spewed volcanic ashes on Sunday and Monday. Wednesday, activity at the 3,332-meter volcano, located on the border between Jember, Bondowoso and Banyuwangi regencies, had been reportedly decreasing although its alert status remained at Level 3.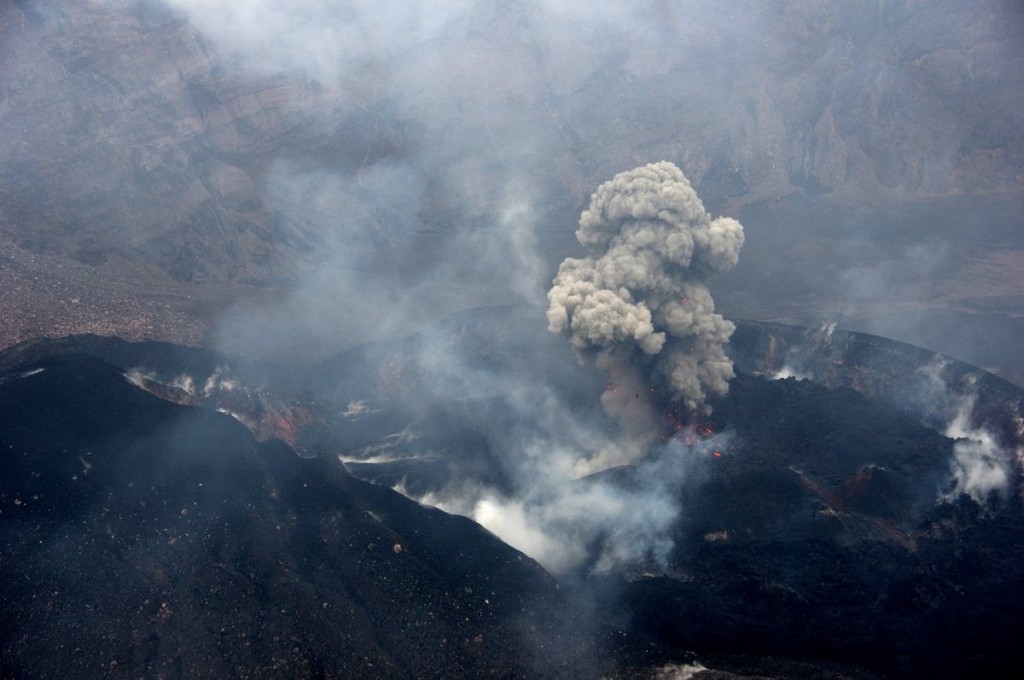 Bondowoso BPBD operational head Kukuh Triyatmoko, meanwhile, said volcanic ash, carried by winds in the direction of Bondowoso on Tuesday and Wednesday, was not as thick as that seen on Monday. The affected districts, Jember and Banyuwangi, have six subdistricts respectively within an zone of a radius of 3 kilometers wide approximately around the volcano crater.
The Mt. Raung had already erupted in February, but the volcanic materials have not crossed the crater rim. In preparation, the head of East Java BPBD, Sudarmawan, said that 33 points of evacuation were in place in the three regencies in anticipation of an eruption of Raung. Seismographic data from the Songgong District observation post showed widths of vibration between 17 and 22 millimeters in the last days. The authorities of Air Navigation also warned the flights to and from Surabaya, the capital of the province, and Denpasar, Bali, in order to avoid flying over Mt. Raung.
Source : Jakarta Post .
Photo :   Cédric Normand  09.03.2015